Fishbowl 2017
Hang on for a minute...we're trying to find some more stories you might like.
Hype and excitement was going around the harbor. After classes ended, people gathered in the gym to cheer on our football players as the time of the big game was fast approaching. They cheered, "Roll Tide!"  There were multiple activities throughout the assembly. First, as we do every year, the Tides Football team ran out of the tunnel with the lights off, and only one spot light illuminating each player. The announcer screamed in the microphone, as each starting player ran out and struck a pose to the roaring crowd. After each player was announced, the crowd went silent as they awaited the next activity. One football player from each grade was called down to sit in a chair. The staff told the players that they would play music, and at a certain point in the song, they would stop it. The player would then have to sing the rest of the song. Each player sang their hearts out, but some did not know all of the words. As a consequence, the person standing in front of them would pour an entire box of food on their heads. The players walked away proudly wearing cereal, Goldfish, and raw noodles. It was one of the best assemblies yet! Then it was time for the moment the Tides had been waiting for, the game! Everyone had one goal; beat the Peninsula Seahawks! King 5 projected the game on local screens. It was a Friday like no other. This Friday, September 15, the Gig Harbor Tides would play the Peninsula Seahawks for the Fishbowl title. Both sides practiced constantly for the big night. The game started and both sides played like there was no tomorrow, tackle after tackle, pass after pass, catch after catch. The Tides scored the first touchdown, seven to zero at the end of the first quarter. Second quarter started with the Seahawks making a field goal. The boys were playing hard trying to score, and soon the first half ended. Close to the end of the third quarter the Seahawks made a touchdown. Now, the Tides were down by three points. Interception after interception, the Seahawks couldn't stop scoring touchdowns. The Tides reentered the game during the fourth quarter, scoring two touchdowns. In the end, the Tides were short ten points, awarding the Seahawks the victory. Despite this, both sides demonstrated tremendous hustle. Maybe next year Tides!
About the Writer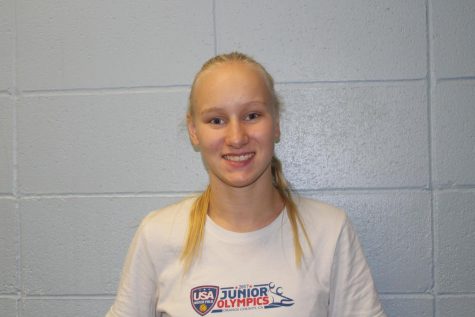 Ekaterina Andren, Writer
Hello, I am Ekaterina Andren and I am a senior. Some fun facts about me are I am going to have eight varsity letters from water polo and swimming, and...