The New and Improved Fifa 18 Is Finally Here
From the cold afternoons of English football, to the humid days of South America, and the rainy nights of American soccer, EA Sports' Fifa 18 captures the authentic culture of football around the world. The Fifa franchise has paved the way for a unique experience like no other football game of its time, reaching the millions of eager fans who can't wait to play the masterful game. With the recent release of Fifa 18, new additions have created a higher developed and more realistic encounter with the world's favorite game. Every year EA presents us with new features and improved technology to improve the overall flow while providing smooth gameplay. New features to this year's Fifa 18 includes new player motion technology, dribbling mechanics, crossing styles, crowd enhancements, and dynamic substitutes. Also, Fifa's story mode, "The Journey," makes its return featuring the 18 year old English footballer Alex Hunter, and allows you to control his thrilling career around the world. Fifa's most popular game mode, "Ultimate Team," has also received new players, updated player ratings, and new ways to earn rewards. With many new features and updates to last year's game, there are a lot of exciting improvements to dive into.
Real player motion technology fuels the life-like animations of our favorite players across the world. Motion capture technology has come a long way in recent years and EA is taking advantage of it. If you're running down the pitch or taking a free kick, each player has their own unique and realistic running, kicking, and free kick styles that adds to the realistic controls. EA expanded motion capture to dozens of world class players like Cristiano Ronaldo, Antoine Griezmann, and many more. Along with improved player personality improvements, new features have been added to expand the numerous crossing styles that can make your game deadly. New crossing controls allow for more freedom when placing your passes with the option to kick lobbed, whipped, and leading crosses. Your crosses can only do so much if there's no one to finish them in the back of the net. Improvements to player positioning make your players smarter off the ball when you're not controlling them. Players will make dangerous runs that will leave your opponent dead in their tracks as they put away your magnificent pass. Pausing during your match was also an area of concern last year, as it slowed down games and stopped the flow of play. This year the new addition of dynamic substitutes allows you to make subs without pausing your game and can put in your fresh set of legs at any time you like. The motion mechanics and player IQ has improved immensely over past editions and we can only imagine how realistic Fifa can become.
Another major addition to Fifa 18 is the enhanced crowds that fill your stadium with passionate fans which adds to the surreal realism as your loving supporters come to life. A major downside to other sports games are the downgraded fan graphics and lifeless emotion that takes away from the realism of the amazing atmosphere that is unique to sports. Fans have been upgraded with HD graphics and make each attendee unique. Your supporters also cheer and chant with life-like emotions as they wave flags, banners, and sing until they lose their voices. Improvements to lighting add to the breathtaking sights and are unique to every stadium and region across the globe. For example, South America has unique sunshine that is unlike other venues in other regions. Along with special enhancements of past existing stadiums, several new club stadiums have been added such as LA Galaxy's StubHub Center, which captures the culture of American soccer. The attention to detail has put Fifa in a slim category of truly sensational sports games, and can share the love for football with the entire world.
The popular and recently expanded story mode "The Journey" captures the relatable dream of becoming a football superstar as you live the 18 year old Alex Hunter's experience through English football and countries around the world. The young sensation is experiencing his second season at the professional level after a up and down season in the Premier League. Now you control Hunter's journey as he leaves England and travels elsewhere to follow his dreams of becoming a world renowned footballer. Difficult choices along his journey will change the outcome and long term direction that Alex takes his career. Hunter will experience a global path through the U.S., Europe, and South America. When attempting to conquer the supreme leagues around the world, you and Alex will come across several football icons and characters, some you can play as, including Cristiano Ronaldo, Antoine Griezmann, French legend Thierry Henry, Dele Alli, Rio Ferdinand, Thomas Muller, basketball star James Harden, and many more. It is up to you to decide Hunter's fate and engrave your name in history while becoming a football prodigy.
Lastly, EA's Fifa Ultimate Team (FUT) has expanded the opportunity to earn rewards and player packs every week. The new single player game mode squad battles allows you to challenge the created squads of professional footballers, pro Fifa players, and celebrities to place yourself on a worldwide leaderboard at the end of each week. As you continue to test your skills and build your squad, you may come across some of the many icon players who are the legends of the past. These astonishing legends from all over the world range from those who played only a half-decade ago to others a half century ago, include footballers such as Ronaldinho, Ronaldo Nazário, Maradona, and Pele. Each icon player has three different cards highlighting different milestones in their career. With three times the amount of legend cards than last year, you have triple the chance of packing an icon. To keep your squad looking fresh and ready to win, new kits are a must for a new season. Eight new custom kits are rewarded to you just for purchasing the game. EA made sure you had the opportunity to play in style. Player packs are another great sell in FUT as this year's pack animations have been given a new look to excite the lucky gamers with confetti and the renowned "walkouts." FUT has been improving every year and still remains the most popular game mode in Fifa with millions of participants.
Fifa 18 has truly captured the beauty of diverse cultures that all share the same love for football. Every year the game improves and builds upon the great additions from last year. This adds new ones to enhance our gaming experience. Fifa 18 is a must buy for all football fans and with dozens of new and existing game modes you will never get bored. Football is the world's game, and Fifa 18 captures every jaw-dropping moment of it.
Research obtained from:
http://www.ign.com/articles/2017/09/21/fifa-18-review –
https://www.polygon.com/2017/9/28/16378478/fifa-18-review
http://www.espnfc.com/blog/espn-fc-united-blog/68/post/3216250/fifa-18-jaw-dropping-realism-but-not-always-on-point
About the Writer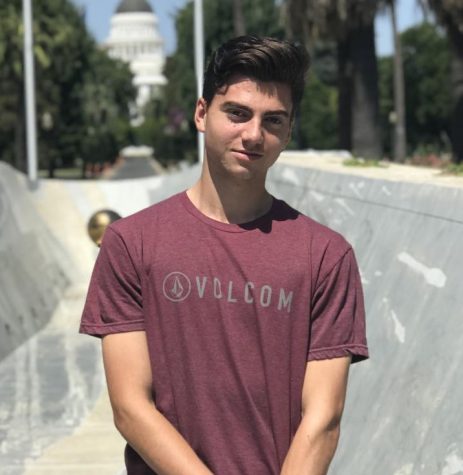 Jordan Dowd, Editor
As a senior and editor of The Gig Harbor Sound, Jordan takes pride in representing his school, while making sure that all voices are heard at Gig Harbor...