Miami Club Coming to MLS
February 9, 2018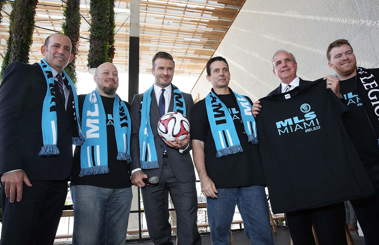 Bienvenido Miami! After a four-year fight for an MLS franchise to come back to Miami, the time has finally come. English soccer legend David Beckham has answered the calls of the growing Miami community and will officially bring the club to life. Beckham first released his plans to bring an MLS club back to Miami in 2014, but the lack of investors and support from commissioner Don Garber put this plan on hold. Now, Beckham has been approved to start his dream franchise and hopes to debut his franchise in the 2020 season. But there still is a long road ahead.
The new club has yet to announce its team name, team logo, and team colors. Beckham hopes to let the fans get involved with naming the team and approving their team colors. These are expected to be revealed in the next two months as the new franchise moves forward in hopes of being a prosperous club.
The club is also moving towards establishing their own soccer-specific stadium. The league has stressed the creation and involvement for soccer-specific stadiums rather that shared fields with other sports such as football and baseball. The team is expected to build a 25,000-seat, $200 million privately-funded stadium in the Overtown neighborhood, that would commence play in 2021. In the meantime, the club will play its inaugural season at temporary stadiums such as, Hard Rock Stadium, Marlins Park, and FIU Stadium. Beckham originally wanted to place his franchise at a waterfront venue, but was blocked by the local cruise industry.
The MLS has grown immensely since Beckham himself join LA Galaxy back in 2007. Since then, the league has doubled in size and has increased attendance by 42%, averaging 22,106, giving them the six best league attendance average in the world.
A discounted $50-75 million-dollar franchise fee paid for by Beckham and his partners has made his dream a reality and has sparked support by many celebrities and prestigious players. Celebrities and athletes including Alex Morgan, Tom Brady, Neymar Jr., Usain Bolt, DJ Khaled, Jay-Z, Serena Williams, Jennifer Lopez, Will Smith, and even world renown football star, Lionel Messi. The new franchise has great support and continues towards a prosperous future in an evolving league.
Miami is a great location for a soccer club with the diverse Latin culture of South Beach. With the recent success of MLS expansion clubs such as Orlando City and Atlanta FC, there's no doubt that Miami is set for greatness and will bring a Latin flair to Major League Soccer.