Tis the Season! (To Take AP Tests)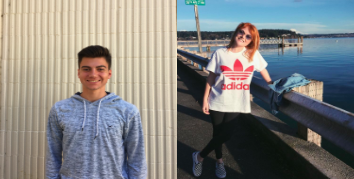 Tis the season of senioritis, arriving late to school, and of course, AP testing.
Students all around the country have been preparing the whole year for these tests, studying countless hours in hopes of scoring a perfect 5.
This year, AP testing starts May 7th and goes through May 18th.
They are divided up between Peninsula High School and Gig Harbor High School, in their school gyms. Throughout the district, this year's most popular AP courses were AP Language and Composition in addition to AP Environmental Science. At Gig Harbor alone, 89 students will be taking the AP Comp and Lang test and 64 students will be taking the AP Environmental Science test. It is inspiring to see so many students taking the AP Environmental test, being that it is one of the few AP classes that freshmen sophomores can take.
In APES, students get hands on experiences on how to make more environmentally friendly decisions by learning about current world issues and going on field trips throughout Washington.
AP Comp and Lang is junior-dense class. Mr.Gossler and Mrs.Kennedy-Floyd do a great job preparing their students for the test throughout the year by taking practice tests and doing practice timed essays.
AP Psychology is another popular class among Gig Harbor students. This class is limited to only juniors and seniors. Although a rigorous course, it is considered a favorite among students. Learning mind-boggling facts, some even being disturbing, Mr. Eager does a great job teaching this class to make it interesting and the students enjoy it.
Although there are 24 challenging AP classes offered at Gig Harbor and Peninsula, one of the most challenging among these is AP Chemistry. Over the years it has been taught by many different teachers, but it is currently being taught by Mr. Dennis Johnson. With topics ranging from atomic theory, to thermodynamics, only dedicated students take this class.
"For AP Comp and Lang, getting a 4 isn't has hard as it seems. If you practice and put the work into daily assignments and study, you will be well prepared."

-Jordan Dowd (11)
"This year, I will be taking the AP Psych test. I feel well prepared, but I am still a little bit nervous hearing from past students that the test is hard and it's challenging to even get a 4. But Mr. Eager has done a great preparing us through the year."
-Sheila Strong (12)
With less than a week until the testing begins you can expect long study sessions, multiple caffeine breaks, and students running on low amounts of sleep. Let's finish this year off strong.
About the Writer
Rebecca Ronzone, Writer
Hello, my name is Rebecca Ronzone. I am currently a senior at Gig Harbor and I am so excited to be apart of the newspaper staff this year. I was apart...