Tides Boy's Soccer State Bound
Hang on for a minute...we're trying to find some more stories you might like.
Two goals down, backs against the wall, time winding down, our boys soccer team has proved to persevere through anything. Within a three game span, our Varsity Tides have overcome multiple 2-0 deficits, and truly do not quit until the referee blows the final whistle. Each player plays every game as if it was their last, leaving all they have on the field. Our Tide's finished their regular season as SSC 3A League champions with a 12-0-3 record, and remained unbeaten through 15 games. They also posted a league's best 9 shutouts with allowing only 10 goals.
Their first 2-0 deficit came against the 13-3-0 North Thurston High School, with the league title on the line for both teams. Coming off of an 8-0 victory over Timberline, it would seem that the Tide's would roll into another strong win, but the physical and speedy, North Thurston had other ideas. After going into halftime with a 1-0 deficit, it was essential to come back fighting in the second half. Although, within the first 15 minutes of the first half the deficit had increased to 2-0 and time was running out. Varsity coach, Joe Ross made a urgent tactical move to bring forward sophomore left back Nate Jones, into an attacking midfielder role. It would prove to pay off as Nate would defy all odds with only fifteen minutes left in the game, and put away three balls in the back of the net. Nate would be the hero that Gig Harbor needed, and would lead them to a league title.
With the previous win in mind, the Tide's would need to produce the same magic again as they faced off against Hudson's Bay. A nightmare start hit the team as Hudson's Bay put away two goals in the first 10 minutes. With one coming off of a keeper deflected rebound and another a perfectly placed free kick from the top of the penalty box. But the team kept their composure after a flat start and continued to work their way back into the game. Senior Max Frank would give the Tide's the pivotal first goal, as the momentum shifted going into halftime. With the momentum now on their side, the Tide's came out blaring in the second half, with unstoppable penetrating attacks from the midfielders and strikers. It would take only 8 minutes to equalize the game at two a piece, when midfielder Nolan Carroll finished off a well taken free kick from center defender Logan Kenny. Now the team was rolling and with only one more goal, the come back would be complete. With state play on the line, junior Jacob Cronk would come through and put away the winning goal in the 67th minute, receiving a through ball between the opposing center backs from senior Dylan Horwath. Jacob took one touch behind the backline controlled the ball and slotted it past the keeper. It was official, the Tide's had completed their second 2-0 comeback, and have earned a spot in this year's state playoffs.
The 2-0 lead is known as the worst lead in soccer and it proved to be true as Hudson's Bay could not hold on for the remaining 70 minutes. The team hope's to continue to make a strong run in the playoffs, and with these team efforts to never give up, there is no question that the our boy's can persevere through anything. Roll Tide!
About the Writer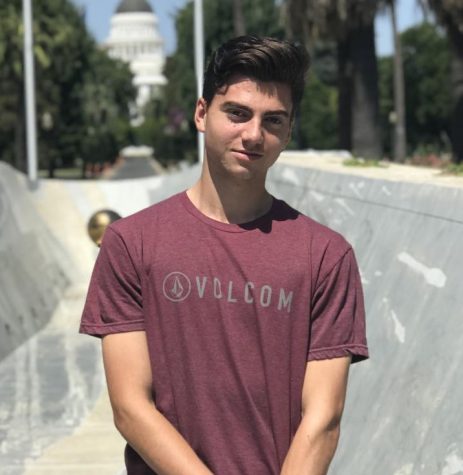 Jordan Dowd, Editor
As a senior and editor of The Gig Harbor Sound, Jordan takes pride in representing his school, while making sure that all voices are heard at Gig Harbor High School. You will often find him playing soccer for both school and club, and hopes to continue his passion for soccer and writing throughout college. At home, he has two crazy kittens and a sophomore brother, who all take up most of his time.