Homecoming: A Night to Remember
Homecoming is one of the most exciting times of the year, and this year, the leadership students really outdid themselves with the decorations. The theme was "Enchanted Forest" and the effect was incredible! "My job was panelling and it was pretty fun," Hailey Burris (11) explained. "I made posters and hung them up with my friend Tony." Nae Humphrey (9) was also a part of the leadership team helping set up and she stated, "It was a lot of hard work with a bit of a time crunch, but it was worth it in the end." Right when you enter through the main doors, you see some beautiful flowers hanging from the ceiling and pink, sparkling curtains hanging to your left and right with some hanging ivy strands to complete the look. As you keep walking along the candle lit red carpet, you come to a gorgeous picture stand set up to take photos with your date, friends, or group you attended with. To get into the gym, you walk through the bathroom hallway, where a stunning willow looking tree is set up which foreshadows how incredible the bathrooms are. The girls restroom has ivy placed all around the mirrors, majestic paintings on the stall doors, and beautiful fairy lights hanging all over which really gives off the "Enchanted Forest" vibe. As you keep walking through the hallway and into the gym, you run into a tent you have to go through in order to reach the gym and dance floor. There is a DJ all the way to your left across the gym, chairs set up all over the sides to make sure everyone is comfortable, and enchanted forest colored balloons scattered all over the floor. The music playing is student selected from a song request sheet in the commons from the previous week. All in all, the effect of the decorations and the effort put into the set up definitely made one of the first major events of the 2021 school year, one to remember.
About the Contributor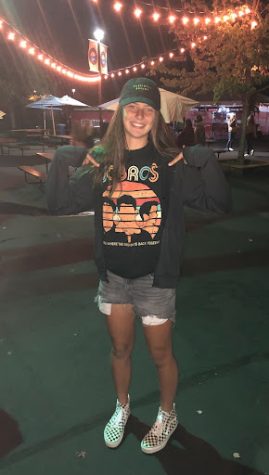 Morgan Weaver, Reporter
New to the newspaper team, Morgan Weaver is a freshman at GHHS this year. Weaver loves to play soccer, hang out with her family and friends, and watch...