Tides Show Support for Peninsula Seahawks During Difficult Time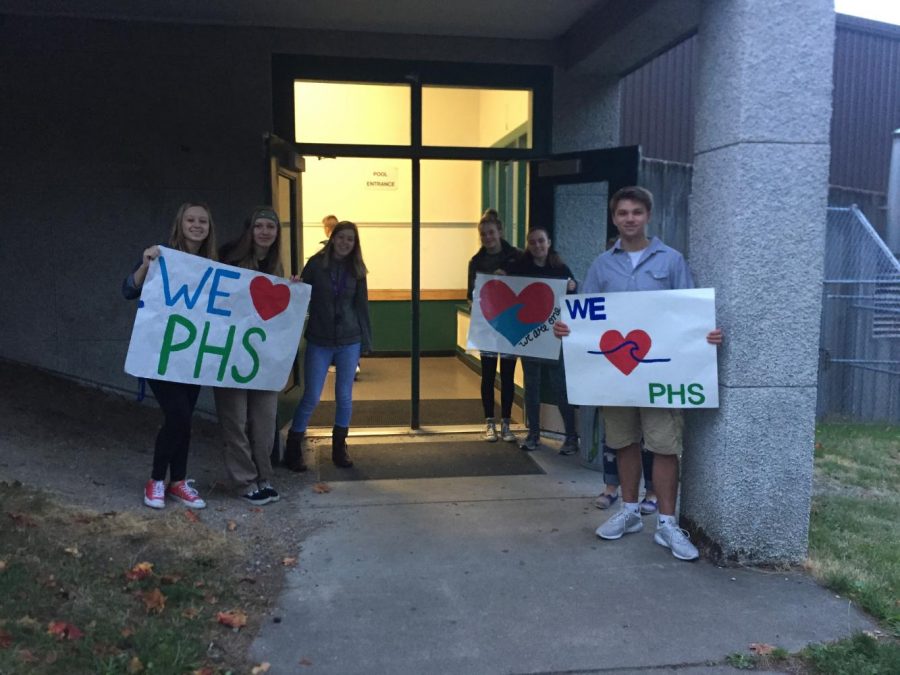 It has been a sorrowful week for students in Gig Harbor. On Thursday, October 5, and Sunday, October 8, Peninsula High School lost two of their students in car accidents. On Monday October 9, classes at Peninsula were cancelled, but the school remained open with several counselors who were available to help students get through this difficult time.
To show their support for all of the friends and family of those who knew the two young men, Gig Harbor High School not only participated in a school wide "blackout," (in which all students wore black to show respect for the lives lost) but they also participated in a sign waving at Peninsula High School on October 10, at 6:45 am, where they attempted to lift the spirits of the Seahawks with their homemade posters signed with loving, uplifting messages.
The Leadership class, led by Mrs. Indahl, hosted this event and encouraged others to join them.
Many of the students leapt at the opportunity to support their fellow schoolmates. The Gig Harbor Jazz Choir, Vocal Motion, even cancelled their Tuesday early morning rehearsal and instead all carpooled to Peninsula High School so that they could be apart of the event.
Once at the school, the Tides gathered together in groups at different entrances in the school and greeted the Seahawks. The large group in the entrance, where all of the students who rode the bus entered even sang "Hallelujah," originally by Leonard Cohen, and "See You Again," by Wiz Khalifa, in unison.
All of Gig Harbor is keeping the families and friends of those who were affected by these tragic happenings in their prayers and close to their hearts. And Peninsula High School, though already in good hands, should know that they have many people to reach out to if they ever need additional support during this tough time.
About the Writer
Ciara Greene, Head Editor
Aloha! My name is Ciara Greene and it's great to be back here at Gig Harbor High School as a team member of the school newspaper once again! I am honored...