Melissa's 'Marks'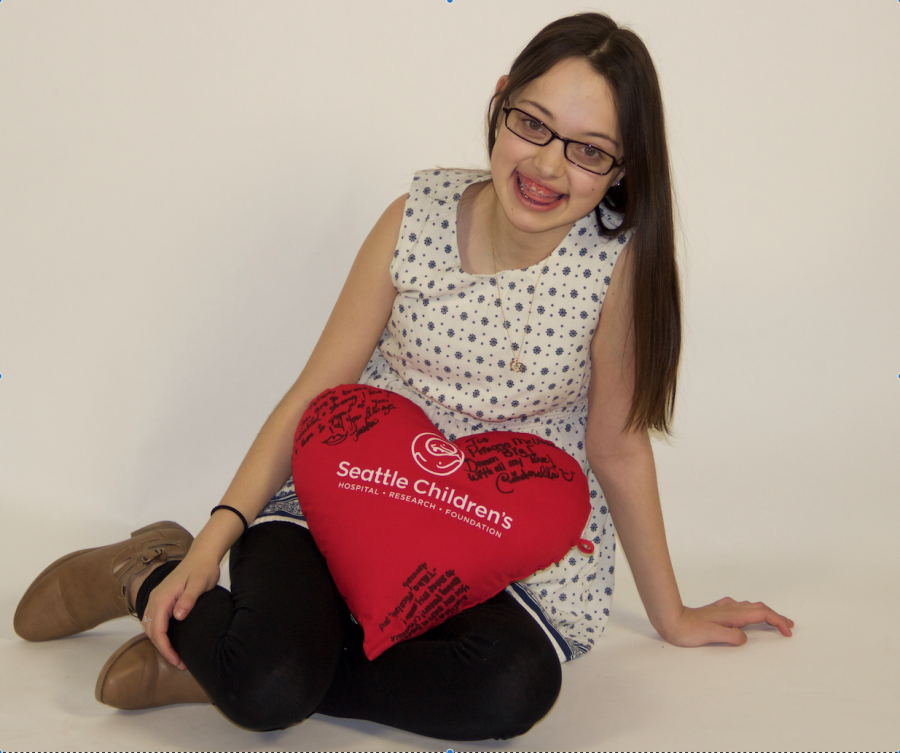 Julia Roberts once said in the 2017 film, Wonder, "We all have marks…[our faces] show us where we have been, and [our hearts] show us where we are going…" Melissa Garrison's heart shows both.
Where She's Been
Melissa's story begins before she was born. When her mother was 28 weeks pregnant, the doctors told her that Melissa had a heart defect. They weren't sure what it exactly was, but they knew it was there. When she was born on August 29, 1999, they discovered she had Hypoplastic Left Heart Syndrome, a birth defect that affects normal blood flow to the point where the left side of the heart does not form properly. She had to have surgery almost immediately. When she was only four days old, she had her first procedure, then again when she was seven months old, and her third surgery took place when she was four years old. After her surgeries, Melissa began to recover, and she appeared to be finally healthy.
During the summer before her freshman year in high school, Melissa started to get very sick. Her family immediately took her back to the doctor's where they once again, performed several medical tests. The doctor's discovered that she had low albumin levels, which is a measurement of blood plasma proteins. As a response, the doctors informed Melissa that she would need to come in twice a week for albumin infusions, but her conditions worsened over time to the point where she had to begin visiting for infusions everyday. Spending all of her time in the hospital was not only physically exhausting, but it was very emotionally and socially difficult as well. "I had friends," Melissa said. "But I wasn't ever able to hang out with them because I was always in the hospital getting infusions."
The daily hospital visits also exhausted Melissa's family. Soon, they decided collectively as a family that enough was enough. They came the "decision of a lifetime." Melissa's parents signed her up on the heart transplant list.
Before being officially placed on the list, Melissa had to take a series of intelligence tests. The tests would begin with problems as simple as "1+1" and would get progressively more difficult. After passing the test, she had to go through yet another series of medical tests in order for the doctors to find a match for her heart. She was officially put on the waiting list on December 29, 2014.
The average wait time for patients on a heart transplant list in the United States is more than six months. "Many people actually die waiting for these heart transplants," Melissa said.
On January 14, 2015, Melissa's mother got a phone call. "She answered just like any person would," Melissa started. "And then all of a sudden she just starts crying. I was like 'Mom, What the heck is going on? Stop crying, enough crying!'" The doctors had found Melissa a heart. "The next day at school, my friends and I sat together on a bench and we just started crying." Melissa got her heart transplant on January 16, 2015, only eighteen days later. "That's a freaking miracle," said Melissa.
Usually after a heart transplant, you are in the ICU for about two to three weeks before you are placed on the regular floor for about another month. "For me, I was in the ICU for about three days, and I was up and walking around. That doesn't happen. Ever." Melissa was on the regular floor for about a week and a half, after which she was released to go home. "The doctors say it was my positive attitude and my determination to get home." But her remarkable recovery turned out to be too good to be true, because shortly after she returned home, she got an infection and had to return to her hospital care where she stayed for another month and a half. She remembers feeling very upset and disappointed during her stay, especially when her grandfather passed away and she wasn't able to attend the funeral with the rest of her family.
Before her transplant, Melissa was attending school regularly just like any other high school student. However, despite being tutored by Gig Harbor High School Math teacher, Mr. Millard, after her operation, her academic life, "didn't exist. It was difficult to keep up."
Once again, Melissa seemed healthy for about a year, until the summer before her sophomore year. One of Melissa's worst summers, she found herself throwing up at least ten times a day. She had to go to the hospital once again where they performed even more blood tests and MRIs, and the doctors concluded that Melissa had cancer. "They told us that I had gotten the cancer from my heart transplant, PTLD," also known as Posttransplant lymphoproliferative disease.
Shortly after, Melissa began chemotherapy and had to take two different types of medicines.
"I didn't want to eat at all. Food tasted like metal. Like licking the inside of a tin can."
While Melissa continued her ongoing chemotherapy, her mother tested positive for breast cancer, a cancer that she had overcome both before before Melissa was born, and when Melissa was in middle school, however it had returned once again. Consequently, Melissa's mother also had to go through chemotherapy, limiting the amount of time they got to see each other.
"Chemo really takes a toll on you. You get super tired and throw up and have headaches."
Despite the difficult side effects, Melissa was responding well to treatment, and although she still visited the hospital frequently for chemotherapy, she was allowed to go home. Unfortunately, Melissa's mother was not responding to the treatment. When Melissa was finally released from the hospital, her mother was placed under hospice care.
Two weeks later, on October 23, 2016, Melissa's mother passed away.
Where She's Going
In Shawn Achor's "TED Talk" on "The Happy Secret to Better Work," he claimed that life is 10% what happens to us, and 90% of how we react to it. Now, Melissa is cancer-free and is living a full and happy life. The most inspiring part of Melissa's story is what she has made of her unconventional life circumstances, her indomitable spirit, and her never-give-up attitude. She has not let what she has been through in the past limit what she can experience today.
She acknowledges that her remarkable recovery would've likely not been possible without the love and support from her family and friends. "I can't take all of the credit," Melissa said. "I had my family and friends around, and a lot of people came to visit me at home and in the hospital."
Faith also played an important role in her life during her difficult times. She is still an active member of her church, at which she attends bible study, youth group activities, is part of the worship team, and even occasionally teaches the youth of her community about her faith in which she is fully invested.
She is also a member of the Gig Harbor High School Bella Voce choir, and the Meistersingers. She not only willingly showcases her talent and passion for singing, but is also a social butterfly, and an even better friend. She always has a smile on her face in times of gladness, and is always a reliable and loyal shoulder to cry on when her friends are in need of it.
During her medical journey, Melissa got the opportunity to meet other children who were going through the same things as she was at a heart transplant camp. "I met this girl named Bella and another named Kuma. It's really nice to know that I'm not the only one, especially being from a small town, it's good to know that there are other people going through the same thing." Melissa still talks to her new friends from camp, who she considers to be her new lifelong friends. In fact, she has even met her high school sweetheart, Christian Wilson. She and Christian have been together for six months and are still going strong. "I feel so lucky to be so close to someone who has also been through what I have."
Melissa has also learned over the years that she loves working with children. In fact, she has been volunteering almost every day for the past year at Discovery Elementary School for her previous fourth grade teacher, Mr. Knodel. She loves it so much that she realized when a passing teacher questioned her about her service hours that she hadn't even been keeping track. It has been all out of the goodness of her heart.
Because she was in the hospital so much, Melissa got the chance to talk to many of the doctors, one of which who was a child life specialist. The specialist visited Melissa daily while she was in the hospital and engaged with her in fun activities, arts and crafts, and music to make her feel like she was a normal child, and at home. After Melissa graduates high school, she wants to use her experiences enduring all of the challenges she has been through to help other children who are going through the same things. She will attend Central Washington University in the fall where she would like to get a bachelor's in child life, which she plans to use to become of therapist for children who are fighting similar battles. "I realize that with everything that has happened to me, and with me being in the hospital so much, I want to be that person who is always helping."
Melissa would like other children who are fighting the same battle that she once did to know that "I've been through it, I can help [you] through this. You are not alone."
R.J. Palacio once said: "I think there should be a rule that everyone in the world should get a standing ovation at least once in their lives." Melissa Garrison surely deserves a round of applause for her determination to keep going. And her general kindness and want to help others is truly inspiring.
After all, Melissa fits all of the qualities that make the great human being that Palacio refers to. "Courage. Kindness. Friendship. Character. These are the qualities that define us as human beings, and propel us, on occasion, to greatness."
About the Writer
Ciara Greene, Head Editor
Aloha! My name is Ciara Greene and it's great to be back here at Gig Harbor High School as a team member of the school newspaper once again! I am honored...