GHHS Senior Amber Bursch
" Be nice to everybody and treat everybody how they want to be treated, we are all in the same boat", Amber says, wanting to leave advice to upcoming underclassmen. Amber Bursch is a senior at Gig Harbor High School. She has a love of the high school environment, softball and her seven dogs! As a senior she began taking classes part-time at Tacoma Community College through the running start program, when asked about Tacoma Community College, she said that it is not the best because she misses the high school experience. With all the people around her, there is more involvement. Bursch began to tell about her future goals. With college still on her mind, she wants to attend the college New York University to become an Emergency Medical Technician. Bursch understands that it takes much work to become an Emergency Medical Technician: it can take anywhere from six months to two years of training. These programs are offered at technical institutes and community colleges, which fits right into her schedule. When college is not on her mind, she plays her one and only sport, softball. Bursch has been playing since sixth grade and plays on the Gig Harbor High School team. Yet although she loves the sport she will sadly not be playing in college so she can pursue being an Emergency Medical Technician. But for now, Bursch is ready to take on her last year of highschool and succeed in the future!
About the Writer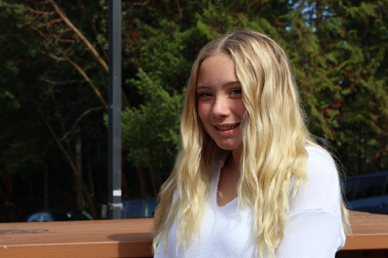 Jocelyn Hughes, Writer
A new writer to Gig Harbor High School newspaper staff, Jocelyn Hughes is a well-committed freshman ready to take a start on the paper. Her favorite subject...