Spring Break
The sun is starting to come out and April is just around the corner… this means spring break! This year, senior students Jacqui Verrue (12) and Alec Mclean (12) are taking a trip to Arizona for vacation. With going on a warm trip, they plan on hiking the Cambell Black Mountain, tubing on the rapids, going on waterslides, and visiting ASU . They are staying for six days and are very excited! Verrue says, "I'm excited to be in the sun on my birthday.", McLean added "I'm excited for going on waterslides." This vacation definitely sounds like an awesome spring break.
Meanwhile, Ella Barrett (9) is going on a vacation to California! She is staying there for three nights and flying up with her dad. Barrett is going to California to not only be laying by the pool and getting a sun tan but also doing fun activities such as visiting the Great America and the Sana Cruz beach. She said "I'm excited to go on the trip because I get to go on a lot of rides and spend time with dad. I will also finally have the opportunity to go to one of the California beaches." Ella is very thrilled to be taking a trip this spring break. Spring break is definitely gonna be a fun one for these students!
About the Writer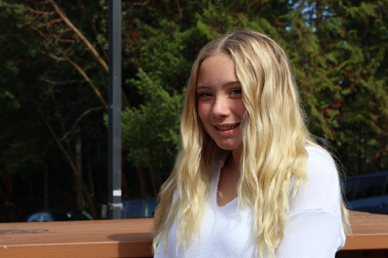 Jocelyn Hughes, Writer
A new writer to Gig Harbor High School newspaper staff, Jocelyn Hughes is a well-committed freshman ready to take a start on the paper. Her favorite subject...