The End of the First Semester
Semester 1 is definitely going to be in history books. We spent an entire semester online. I was really excited to start high school online but I had no idea what to expect. The first week was nice, I met my teachers, kind of met my classmates and didn't have much homework! I have really liked this schedule; it has helped me having Wednesday to work and get the rest of my assignments done! It's very nice to only have three periods a day instead of having six periods a day. I also enjoy that big break between the second and third period! It allows me to get a break, sleep, or get an assignment done!
I've never done high school in person before but online was definitely harder for me. I feel like I'm not learning as much and once we got rolling, I received a bunch of homework. Kaitlynn Weaver, a freshman at GHHS stated, "I was used to getting ok grades, but the online experience really surprised me. It's much harder than I thought it would and I would much rather go back to school." I couldn't agree more. I hadn't done online except the last trimester of 8th grade and it was set up very differently. You didn't really have any work and I'm pretty sure every student got an A. Like Kaitlynn, I got nothing but 4.0s in 8th grade so now that I have a 3.5 I'm freaking out. I miss seeing friends and everything that goes along with normal school. I feel like my relationship with the teachers aren't as strong and I hardly can name who's in my classes.
Morgan Kelly, a freshman at GHHS stated, "Online school was challenging in ways I didn't expect. There was so much homework and social interaction was at an all time low! However, getting to sleep in was amazing!" This semester was crazy and stressful but it has really taught me a lot!
About the Writer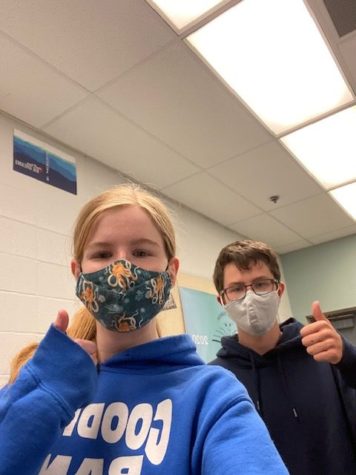 Natalie Flick, Editor
Returning member of the Newspaper Staff, Natalie Flick is a sophomore at GHHS. Flick is excited to be a writer and editor, with the goal of creating amazing...