Expectations for going back to school
Online school has become the new normal, although this is not great for a lot of people, like me. I'm not doing as well as I would be if I were in person and it's really hard not having a social life. Not being able to see friends and teachers is really hard. Online doesn't give you much of an opportunity to meet new people.
Fortunately, we are set to go back to school next week! This schedule will be a little different. We are only going twice a week and we are split into groups A and B. A group goes on Mondays and Thursdays while B group goes on Tuesdays and Fridays. Freshman Kaitlynn Weaver stated, "I am excited to go back to school in person, even though it's only two days a week. It's definitely going to be different because we'll be wearing masks and staying six feet apart. I'm just hoping it'll be easier on people grade-wise. I expect the school is going to be rather quiet; because of A and B groups there will be fewer people at the school."
I am really excited to go back and have a somewhat normal rest of the year. However, being a freshman is not going to be the easiest. I will have to learn my way around the school and won't know many people. Morgan Kelly, also a freshman, shared her thoughts on going back to school: "I expect it'll be a little hectic (especially for freshmen who don't know their way around), but I think it'll also be nice because everyone gets to meet their teachers and see their friends again." As Morgan pointed out, I think this transition will be chaotic but it's very much needed.
I think this schedule will be pretty tough because there are some random days off in the week. I predict everyone is going to walk into school looking like a zombie on the first day because all our sleep schedules will be messed up. At the end of it all, I just hope to have a good last couple months of school and hopefully a normal summer.
About the Contributor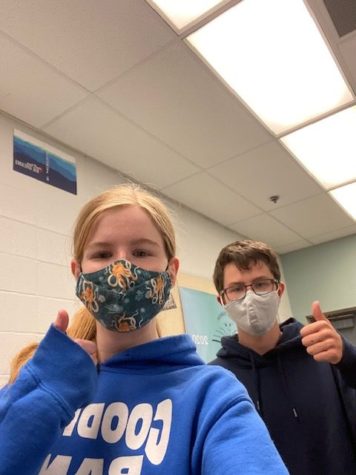 Natalie Flick, Editor
Returning member of the Newspaper Staff, Natalie Flick is a sophomore at GHHS. Flick is excited to be a writer and editor, with the goal of creating amazing...