Returning to School: Remote
The students learning remotely aren't exactly "returning to school", because we've been doing online all year. The remote schedule is pretty much the same as it has been all year, but there are some differences.
First, it may be a little different when it comes to the amount of people showing up on Zooms, because a lot of the school is going hybrid. They have their first classes on Mondays and Thursdays, and they have their last three classes on Tuesdays and Fridays. Wednesdays are the same; they just have homeroom.
Remote may have its disadvantages, like the fact that you don't have a day off of being in class every two days a week, and if you have a question, it's much harder to ask the teacher a quick question. It also misses the social aspect; even with masks and social distancing, people are still hanging out with friends and having fun.
Haramy Shimokawa, a remote ninth grader at GHHS, said, "Remote is great because I like working alone for the most part, but I kinda miss being with friends in an actual classroom."
However, remote learning has its advantages too. Jackson Smith, an online senior, said, "I really like that I'm done with school by like 10:30 on Mondays and Thursdays. It gives me the rest of the day to work on school work before I go to soccer."
Remote learning is interesting because not everyone has the same schedule. "My schedule is kind of different from other remote students," Haramy said. "On Mondays and Thursdays I have two classes which gives me time to do work. And on Tuesdays and Fridays I have five classes because of band and jazz."
Some people didn't even get to choose whether to do hybrid or remote, because some parents and guardians are a little stricter than others, or more worried about the virus. Either way, there are advantages and disadvantages when it comes to remote learning. Hopefully next year, it will be safe so everything can go back to normal again.
About the Contributor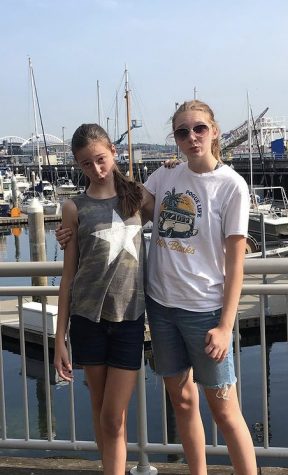 Kaitlynn Weaver, Editor
A returning writer of the newspaper team is now a sophomore at GHHS. Kaitlynn Weaver is looking forward to creating articles that are detailed and enjoyable...