Varsity Volleyball Senior Night
The girls varsity volleyball team had their annual senior night on Tuesday, October 27th. They beat Central Kitsap, winning three out of five games. Even though everyone did great, it was a game for the seniors. The four seniors had their names called out at the beginning of the game, and they thanked their coaches for their years of helping them during tides volleyball. Senior Brianna Mapes, number one, is a outside hitter and had an amazing season! She's a great blocker, and makes it hard for the other team to spike the ball! Bri said "Senior night was bittersweet because it's sad leaving a program I've loved being a part of the past four years! But it was so nice to have a ton of my family and friends show up to support me and cheer me on as my high school volleyball career ends as I move forward to play college volleyball." (Mapes 12). Audrey Allen, number eleven, is a DS (back row) and her passing is fantastic. She makes the setters job easy! Anya Wild, number twelve is also an outside hitter. She's amazing at killing the ball, and has scored many points for her team this season. Leah Ruiz is a right side hitter, and is great at getting her hips around the ball. Leah said "Senior night felt surreal, but kind of scary, everyone was looking at me and I was just trying to figure out what to do. We didn't really know what exactly we were doing so it was kind of  overwhelming. I got to my family and everyone was trying to hand me things. But I finally sat down and thought back on the night, it was amazing, but also sad. That was the last game I will ever play in that gym, and I'll miss it like crazy." (Ruiz 12). Some of these girls have been on tides volleyball since their freshman year, and it's hard to see them go! They thanked all of the coaches. Coach Jeremy encouraged some of these girls to try out their freshman year, and they've made it so far! Some had Coach Rachel as well when they were on the junior varsity team, who pushed them to get better at volleyball. Their current varsity coaches, Melissa Klein and Slade Klein, made them into better players. Lydia Ward is the youngest player on the team. She said "The seniors may have been apart of this team only for the year but they'll stay on this team eternally. As they leave the Tide gates and go off into their own lives they will be forever loved and remembered. Once a Tide always a Tide. I couldn't have picked better seniors to share my sophomore year with. I love you girls and may your futures be filled with much success." (Ward 10).
About the Contributor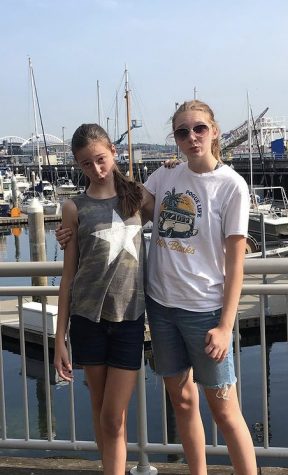 Kaitlynn Weaver, Editor
A returning writer of the newspaper team is now a sophomore at GHHS. Kaitlynn Weaver is looking forward to creating articles that are detailed and enjoyable...