The Jonas Brothers
The Jonas Brothers started their career very successfully having Disney Records as a resource. They rose to fame being a part of the Disney community and did a lot more than just write and sing songs. They starred in their own T.V. show "Jonas" (also known as Jonas L.A. for it's second season) and it was a hit at the time. They also struck gold appearing in Disney Channel's very own, "Camp Rock," both movies, one and two. The first film hit 8.9 million viewers on the night of it's premiere and will remain to be an iconic movie of the 2000's. They have also come out with two documentaries "Happiness Begins" and "Happiness Continues" which goes really in depth about their relationship, break up, Disney, and much, much more. 
 Fans were devastated when the Jonas Brothers broke up in 2013 and started their own lives as individuals. Kevin Jonas, the oldest, (Guitarist) had two daughters, Alina and Valentina Jonas. Joe Jonas, the middle brother, (Singer)  joined the band "DNCE" and was very successful. Their song "Cake by the Ocean" reached top 10 on several charts including Billboard Hot 100. Lastly, Nick Jonas (Singer and Guitarist) started his own solo career and was successful as well, with songs reaching top 10 in the United States and top 20 in the United Kingdom. We are all happy to know they got back together in 2019 and released their "Happiness Begins" album which debuted at number one on the US billboard 200. The album consisted of 16 songs including "Sucker" which was the Jonas's very first song released since 2013 and symbolized the band getting back together after all these years. "It was somewhat catchy when it first came out, but then it was overplayed," states Jonah Eilers (9). We all agree with that statement. They also collaborated with James Corden on his "Late Late Show," doing a skit to announce the good news. 
Now, an inspiring quote from Natalie Flick (10) "I was eight years old when the Jonas Brothers broke up and I was devastated. At the time, I didn't know how I would go on with life. It was really traumatic for eight year old me. I was in a bad place. But, when I got the news that they got back together, six years later in 2019 with a banger album, I was overjoyed! (I was 14 at this point) I suddenly was happy again." Thank you Natalie for sharing this story of an emotional rollercoaster. I, and so many others, feel for you. 
About the Contributor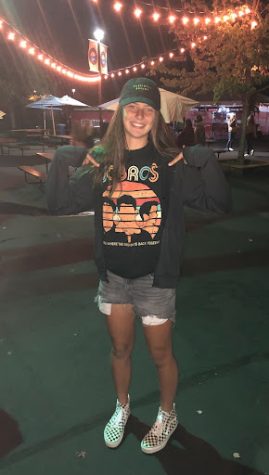 Morgan Weaver, Reporter
New to the newspaper team, Morgan Weaver is a freshman at GHHS this year. Weaver loves to play soccer, hang out with her family and friends, and watch...