Kanye and Drake Deliver a Legendary Performance in LA
On Thursday night, the music world was enamored with two of the industry's biggest stars, Kanye West and Drake. They put together a grand one-night-only concert in the Los Angeles Memorial Coliseum, and it did not disappoint. These friends turned enemies squashed their beef to help raise awareness of Larry Hoover's incarceration. Hoover is a former gang leader and community figurehead who's currently serving life in jail, and Kanye has tried to get him pardoned for years. While it's highly unlikely that West will be able to free Hoover, the concert helped raise money towards prison and sentencing reform.
As for the performance itself, many thought it was impressive. In classic Kanye fashion, the concert didn't begin until 9:25 PT, nearly 90 minutes after the originally scheduled time of 8:00 PT. It began with a collection of remixes from the Sunday Service Choir, most notably Adele's 'Easy On Me'. Kanye and Drake walked out to the choir's rendition of West's 'Ultralight Beam', which kicked off the main event. Kanye performed first, shocking fans by performing many classics and fan favorites alike, including Jesus Walks, Gold Digger, Flashing Lights, Say You Will, and a cover of Drake's Find Your Love. However, the crown jewel of the entire night was Kanye's performance of Runaway. This 9 minute masterpiece has been regarded by fans and critics alike as his best and most emotional song. Kanye delivered some very personal lyrics, specifically directed to his ex-wife, Kim Kardashian. "I liked that Kanye played old and new songs, but I would have liked if Drake played more classics," said Jonah Eilers (9). This would transition into Drake's set, where he kicked things off by covering Kanye West's 24. He then played a bunch of songs off his newest album, Certified Lover Boy, including TSU, Girls Want Girls, Way 2 Sexy, and Knife Talk. The two closed it out with their big hit Forever, also featuring Lil Wayne and Eminem.
Overall, it was a night that left many music fans satisfied and happy that Drake and Kanye were reunited again. Hopefully we see more from this superstar duo in the future!
About the Contributor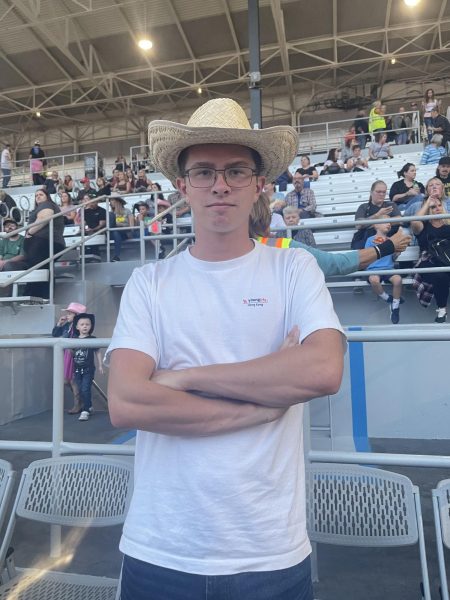 Jonny Windham, Editor
A senior reporter, Jonny Windham is in his 4th year writing and 3rd year editing for The Sound. He hopes to write many quality articles that capture an...