JV Girls Basketball Lose Their Undefeated Winning Streak
The JV basketball team finally lost to Lincoln High School last night, 45-50. Although it was not a league game, this was the first time your lady tides left defeated this season. The varsity team did not play that day, which meant the JV game was at 7:00. The C-team played before at 5:15, and although they got crushed, they started scoring at the end, doing great and closing the gap between the score. Back to the JV game, it was a tough battle. The game was the toughest team they've compete against, and it was filled with pushes, shoves, and falling to the floor. They started out with an eighteen point lead, with Macy Miller's threes, Jayn Willis' drives, and Scarlett Maryott's layups. They had a quick pace, and left Lincoln shocked and flustered. Once it got closer to the half, Lincoln started gaining on our score. Although Kaitlynn Weaver's drives were great, Finley Wyman's rebounds were crucial, and Sarah Davis's leadership handling the ball was incredible, it ended up being a tie at halftime. In the second half, our Tides were getting tired and Lincoln started pressing them hard. They hung in there with Gracie Carrey's defense, and Grace Altman's aggression. Kaitlynn Weaver had an incredible shot block at the end, and Sarah Davis had a crucial jumper. They ended up losing by five, and even though they lost, it was one of the best games they had this season and grew as a team. Sarah Davis (10) says "Despite it being a close loss, this game was the first game we were challenged with a good team. It was fun to play a fast game where everyone could improve." Thank you to all of the coaches, the C-team players that stayed and supported our team, and all of the varsity players that came to the game even though they didn't have one. Hope to see you at the game on Wednesday where the team takes on Yelm!
About the Contributor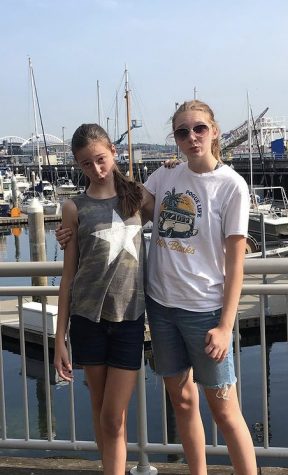 Kaitlynn Weaver, Editor
A returning writer of the newspaper team is now a sophomore at GHHS. Kaitlynn Weaver is looking forward to creating articles that are detailed and enjoyable...