H2Woah's Big Dub
The Gig Harbor High School's very own dance team, "H2Whoa" recently achieved first place in their hip hop competition at Newport High School on January 8, 2022. It was their first competition back from Covid in two years and they absolutely dominated the other teams. This epic dance team consists of Ashlyn Francisconi (12), Noelle Smith (12), Cailyn Smith (10), Rehn Hall (12), Brooklyn Milbourn (11), Makayla Carr (10), Hayden Estler (11), Ava Moran (12), Faith Berry (9) who all did a phenomenal job and they each contributed to their first place win. Also, Cailyn Smith was nominated as the Team's Shining Star. She was nominated for her "dedication, character, teamwork, and work ethic." Congratulations Cailyn! This may have been their first competition back in two years, but they're definitely not out of practice. "I love dance because it lets me become a different person," quotes Rehn Hall (12). "It helps me forget about everything else going on in my life. It all just sort of disappears." The dance team has been doing entertaining performances in front of large audiences since the start of the guys' football season. They would usually put on small halftime shows that were very fun to watch during the break and kept the spirit high when the boys were taking a break. Kaitlynn Weaver (10) says, "I was there at the neon out game when they put on one of their shows. It was really good and amazingly choreographed. You could feel the crowds' energy stay high the whole time. We almost didn't want the show to end!" Not only is this team really talented with their dance moves, but they have awesome uniforms too! They all have matching blue Nike sneakers, black leggings, and are usually topped with a GHHS dance jersey and hoodie underneath. The tops do change from time to time, but it's safe to say that the jerseys are the most commonly used. 
About the Contributor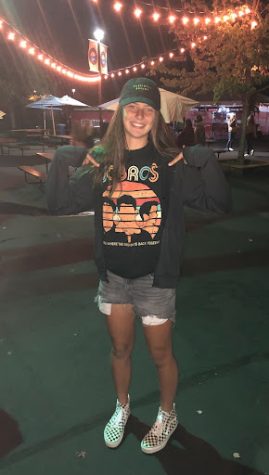 Morgan Weaver, Reporter
New to the newspaper team, Morgan Weaver is a freshman at GHHS this year. Weaver loves to play soccer, hang out with her family and friends, and watch...