Snapchat and the Risks
Snapchat is one of the most popular apps today. When people are looking at their phones there is a 48% chance that they are chatting and sending pictures on Snapchat. Parents all over are wondering whether it's safe for their children to have this Social Media application. For Snapchat being a simple appliance that allows you to send pictures back and forth, it had almost 530 million active users as of April 2021. It seems harmless, but moms all around the world are trembling at the vicious addicting media app. Listen closely as I unveil the deadly risks.
For one thing, each time you send a picture to someone else, it deletes. Teens and kids could be sending anything they want back and forth, and nobody would have any idea. This makes it hard for parents to monitor their children's behavior, and teens can end up regretting pictures that were taken. Some kids' entire futures are evaporating in front of them because of the hateful or disturbing pictures that were sent in times of recklessness.
Snapchat also exposes children to inappropriate content. Instagram and Whatsapp are much better apps when it comes to media and communication for your child. Posts do not delete, and they are structured in ways that are more open and safe.
Here are some opinions of fellow students. Sarah Ehler (10) said "I use Snapchat often." Sami Huber (11) said "Snapchat is so cool." Liam Hayes (9) said "I delete Snapchat often but I always end up getting it again. I think it's a fine app as long as you stay away from anything inappropriate." Anne Seim said "Snapchat is a great way to keep in touch with your friends. But it is bad because people send inappropriate stuff." Stella Disantos (10) said "It's weird how you can almost tell who your best friends are based off of who you do streaks with on Snapchat."
Snapchat is not safe because you can contact anyone you want from your closest friend to a complete stranger. Internet predators are committing as many as 100 murders a year, 16,000 abductions and thousands of sexual assaults in the United States. Why would you allow your child to get this worthless app when they will most likely die? If your child has Snapchat, remember to have them switch it to a private account. Even so. Do you think that weakens the threats…?
About the Contributor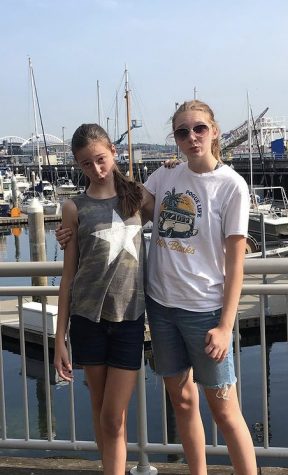 Kaitlynn Weaver, Editor
A returning writer of the newspaper team is now a sophomore at GHHS. Kaitlynn Weaver is looking forward to creating articles that are detailed and enjoyable...