Tides steamroll Peninsula to keep first place in the SSC
On Friday night, the Gig Harbor Tides boys basketball team dominated, defeating Peninsula at home 67-33. The atmosphere in the gym at GHHS was incredible, as it was the 2nd matchup between the two crosstown rivals this season. First, let's take a look at the performances from the other Gig Harbor teams.
C-team: The C-team won 40-24, and POO Elite guard Ty Rushforth (9) helped carry them to victory. Jonah Eilers (9) said, "Ty is a god, he can have my kids."
JV: The junior varsity team got off to a slow start, with a halftime lead of just 7. However, they went a huge run to win 50-29. Benji Park (10) had a big game rebounding the ball and Carson Griffin (11) dominated at the point guard position.
Varsity: 'Downtown' Luke Browne (11) had a great game, hitting threes at will against his former team. With the crowd packed out, Gig Harbor delivered, going on a tear in the second half. Some major highlights included sixth man Ryan Pickles (12) getting a fast break slam dunk, hyping up the Tides and sparking an incredible offensive run in the third quarter. The fan favorite Nic Fortney (11) made a three in the waning minutes of the game, sending the crowd into a frenzy. He said, "To be honest I can't believe that shot went in. I love the fans. There's not a better feeling than getting chanted in and hitting a 3." This drove the students to storm the court following the game. Coach Billy Landram got his 100th win, a major milestone. Let's hope for 100 more! As for the players, they are ready for the next step as a team. Asher Raquiza (12) said, "I'm looking forward to going to the Tacoma Dome for state." With a 13-1 record, the Tides are one of the most prolific teams in the state, and there's no doubt the could make a run in the state tournament this year.
About the Contributor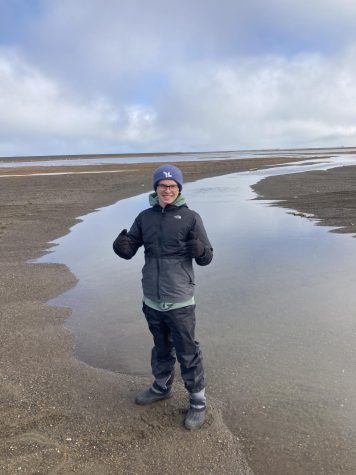 Jonny Windham, Editor
A senior reporter, Jonny Windham is in his 4th year writing and 3rd year editing for The Sound. He hopes to write many quality articles that capture an...