Kendrick Lamar – Mr. Morale – ALBUM REVIEW
Critically acclaimed rapper and lyricist Kendrick Lamar finally returned after 5 years since his last album, DAMN. New album Mr. Morale and the Big Steppers was released last Friday, May 13th as a two-disc album. It's one of his more lengthy projects, but it finds a way to stay engaging through its 73 minute run. Here's the tracklist below:
United In Grief
N95
Worldwide Steppers
Die Hard (ft. Blxst and Amanda Reifer)
Father Time (ft. Sampha)
Rich – Interlude (ft. Kodak Black)
Rich Spirit
We Cry Together (ft. Taylour Paige)
Purple Hearts (ft. Summer Walker and Ghostface Killah)
Count Me Out
Crown
Silent Hill (ft. Kodak Black)
Savior – Interlude (ft. Baby Keem)
Savior (ft. Baby Keem and Sam Dew)
Auntie Diaries
Mr. Morale (ft. Tanna Leone)
Mother I Sober (ft. Beth Gibbons)
Mirror
This album ushered in a new era for Kendrick. He's not the kid trying to navigate life in Compton (good kid, m.A.Ad. City). He's not the reformed man sharing his wisdom (To Pimp A Butterfly). He's not looking into what makes him Kendrick Lamar (DAMN). As many have pointed out, this album serves as a therapy session for Kendrick and the listener. He takes his internal issues and pushes them to the forefront. This is something he did a little bit on DAMN, but it's much more prevalent here.
"That mean I'm calling on God for purity
I went and got me a therapist
I can debate on my theories and sharing it
Consolidate all my comparisons"
The therapy session starts on the opening track United In Grief where he overviews some of the stuff he's going through. He gets more specific as the album progresses, talking about struggles with honesty (Die Hard), daddy issues (Father Time), relationships (We Cry Together), and sexual assault (Mother I Sober).
I really enjoyed how vulnerable Kendrick is on this project. He often takes these topics and connects them back to mental health. I think this was really relatable, as myself and many others struggled with their mental health through the pandemic. I think one of the main things he tries to convey is that even though he's famous, he's not a god. Kendrick is human like all of us, and I think that's really empowering.
K-Dot not only delivered conceptually and lyrically, but also with the incredible sound. The production was much different than DAMN, which was full of trap beats and brash vocals. Instead, he brought in more low-fi, jazzy production, and some instrumental loops. Most of these songs fit the mold except the banger N95, which sounds like it would fit perfectly on Baby Keem's The Melodic Blue.
This album comes together nicely with Kendrick's vulnerable vocals and empowering message. The sound isn't completely new for him, but he experiments with some new flows and his laid-back deliveries remind me of certain moments on Section.80. Overall, it's definitely one of the best albums of the decade, and I'd probably put it slightly below TPAB as his fourth best record.
Favs: N95, Father Time, We Cry Together, Count Me Out, Mother I Sober
9.5/10
About the Contributor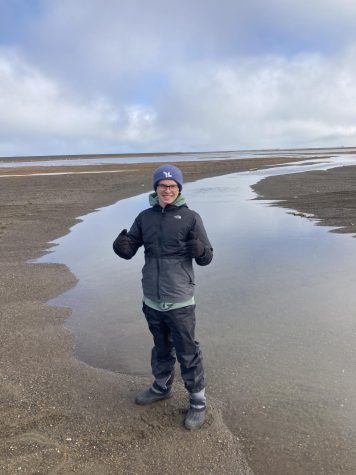 Jonny Windham, Editor
A senior reporter, Jonny Windham is in his 4th year writing and 3rd year editing for The Sound. He hopes to write many quality articles that capture an...