Top 5 Hip Hop Albums of 2022 (so far)
Before the list I would like to preface that this is my opinion and does not reflect the opinions of the rest of the Gig Harbor Sound team. But without further ado here is my list
5. Melt My Eyez See Your Future-Denzel Curry
Melt My Eyez See Your Future is Denzel's fourth studio album. it was produced by the label Loma Vista Recordings releasing on March 25, 2022. As far as Denzel albums go I think Melt My Eyez is his second best behind his 2018 release TA1300. The album has "Chill boom bap production in songs like Melt Session #1 and Walkin but descends into madness on songs like Ain't No Way and Zatoichi" said Jonny Windham (10). The aforementioned Walkin is the biggest song on the album posting more than 25 million streams on Spotify alone. Denzel showcases a slow chill flow on many songs but occasionally speeds it up, this leads to great variation on the album. Overall I would recommend this project to anyone who enjoys Denzel's other work or enjoys Hip Hop in general.
4. Few Good Things-Saba
Saba comes back into the Hip Hop scene in 2022 with his third album "Few Good Things." I myself love Saba's 2018 album Care For Me so when I heard he was dropping another album earlier this year it was safe to say I was excited. Few Good Things came to us on February 4, 2022, where it reached 44 on the U.S Independent Album charts on Billboard. I don't think it lived up to Care For Me but it was still a good album that I have found myself listening to since its release. Saba chooses to stick with his token slower production and chill flow on this project. Songs like the title track Few Good Things and Come My Way showcase Saba's skill well. Throughout the project Saba explores themes of loss and success which feels genuine coming from him.
3. From a Birds Eye View-Cordae
Cordae has been on my radar since his YBN days and especially when he dropped his hit "Kung fu" which was one of my favorite songs for a long time. Cordae took this success and ran with it leaving YBN and dropping a solo project called "The Lost Boy" In 2019. This project has been on repeat since release for me; songs like Broke AF, Thousand Words, We Gon Make It, and many more are some of my favorite songs. From a Birds Eye View had the hard challenge of following such a good album, but I think it's safe to say Cordae wasn't hit with the sophomore slump. Cordae is able to build on his sound while keeping a beautiful flow, and great production. He frequently talks about problems with his father and his growing fame which can sound a little bit corny; This leads the writing to feel a little surface level and more serious than it should be. The troubles he has with the writing are the only problems I see with this project. Hits like "Super" and "Today" are catchy, hype, and have plenty of great bars. Along with these, the project has underrated songs like "Want From Me" and "Coach Carter" which are clearly 90s influenced. Cordae does this 90s sound well, his flow sounds great on clearly influenced 90s production. Overall From a Birds Eye View is Catchy and simple in a perfectly good way.
2. It's Almost Dry-Pusha T
Following his critically acclaimed 2018 album "Daytona" Pusha comes back with a great album in 2022. It's Almost Dry features many amazing artists like Kanye West, Lil Uzi Vert, Don Toliver, Kid Cudi, Jay-Z, and more. These features make the album new and refreshing all the way through; the features are own of the main reasons It's Almost Dry is "all killer no filler," said Jonny Windham (10). Pusha himself sticks with his classic flow and production. Among these songs some definitely stand out. My favorite song on the album called "Dreamin of the Past" features Kanye and Pusha spitting on a beautiful euphoric beat. Along with Dreamin Of The Past, It's Almost Dry features crowd favorite Scrape It Off, and my second favorite song Call My Bluff. I had the pleasure of going to the It's Almost Dry tour which was truly the best way to experience this album. The hard bars, great production, and hooks were all made better in concert. All of these reasons are why It's Almost Dry is firmly in my third spot.
1. Mr. Morale & The Big Steppers-Kendrick Lamar
The Most anticipated album ended up being the best which is exactly what I was expecting when Kendrick Lamar was the one dropping it. Kendrick comes back from his five-year hiatus to drop a truly beautiful album. Mr. Morale came to us on May 13, 2022 immediately jumping to number one on the charts. Kendrick develops a new sound on this project with simpler, chiller production. Kendrick shines (like he always does) in this project. The production is influenced by Jazz and soul music, this coupled with Kendricks vocals truly give this a different feel than his other albums. I'm here for it, I love when artist experiment with new sounds and Kendrick definitely did this one right. The album features many artists I had never heard of before its release like Amanda Reifer, Beth Gibbons, Blxst, and more. Every single feature hits, all of them bring a new dimension to the album and song which is one of the reasons that the album never feels dry or boring. Kendrick shows his musical genius throughout the project in the production, the features, and his pure rapping ability. Kendrick most definitely makes a case for album of the year with this one.
About the Contributor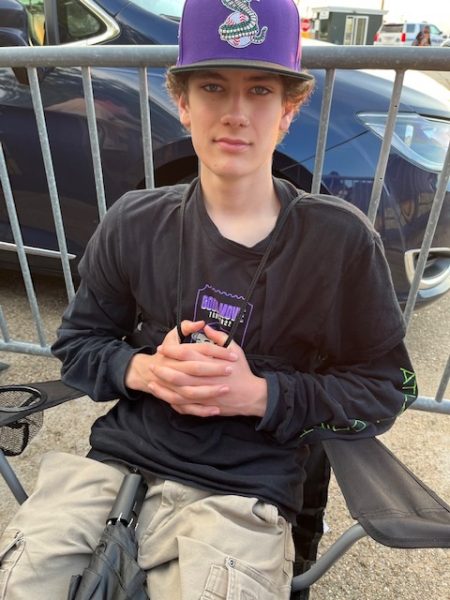 Jonah Eilers, Writer
A junior at GHHS, Jonah Eilers is excited to write for the Gig Harbor High School newspaper. He is hoping to write about various things including sports,...