The Sound's Top 5 Albums of 2022
This past year has been a unique one in the world of music. With the pandemic finally long gone, artists were able to start touring again, and we've gotten more quality and pure fun music than we have in years past. We'll start with some honorable mentions:
Dawn FM – The Weeknd
Cheat Codes – Danger Mouse & Black Thought
Melt My Eyez See Your Future – Denzel Curry
CRASH – Charli XCX
It's Almost Dry – Pusha T
JAMIE – Montell Fish
SOS – SZA
HEROES & VILLANS – Metro Boomin
Crest – Bladee & Ecco2K
5. Ants From Up There – Black Country, New Road
Black Country, New Road has become the new innovators in this unique era of rock, and they bring some experimentation to this genre that has been sorely missed. I love their instrumental arrangements, utilizing the violin, saxophone, flute, glockenspiel and others, alongside your typical drums, bass, and guitar. Lead singer Isaac Wood does a great job displaying emotional heartthrob through his delivery, even if the lyrics are occasionally satirical or not super deep. Wood's vocals with the drowning, psychedelic instrumental pieces make for a very grandiose piece of music. It all culminates with the final track Basketball Shoes, a 12 minute epic with a haunting but euphoric outro reminiscent of fabled post-rock bands Godspeed You! Black Emperor and Silver Mt. Zion. Some of the other standouts include emotional cuts like Concorde and The Place Where he Inserted the Blade, and up-tempo tracks like Chaos Space Marine and Snow Globes.
4. Gemini Rights – Steve Lacy
Steve Lacy's second studio album is not only a coming out party, but also a culmination of his talents as an artist. He started in 2015 making songs via his iPhone, but is now a renowned multi-instrumentalist, songwriter, producer, and singer with a number one hit in Bad Habit. The album jam-packs so much in its 35 minute runtime, mixing alternative R&B and indie rock with elements of funk and Neo-soul in there too. Lacy knows how to make his distinctly experimental sound very addicting, with funky basslines and booming drums to fill the space. His writing touches on his complicated love life, but still keeps a sense of mystery. Mercury was the lead single and was undoubtedly Lacy's most ambitious song to date. Elements of Brazilian funk and a fantastic beat that gives a feeling of marching in the desert. Some other hits include the indie-infused Helmet and Bad Habit, and the glimmering synths of the outro Give You The World.
3. Hellfire – black midi
If there were two bands that emphasize the new generation of rock music, many would say Black Country, New Road and black midi. On their third album Hellfire, black midi incorporates a little bit of everything into an abrasive, fast-paced melting pot of genres. Seemingly calm instrumentals turn into powerful percussion pieces at breakneck speed, highlighted with the lead singer's half-rapped, half-sung vocals. An interesting influence the band drew from is show tunes, and it oddly fits well with the top-tier production here. Hellfire might sound like chaos to a lot of people, but my assessment is that uniqueness at the expense of easy listening always beats blandness we've all heard before.
2. The Forever Story – JID
2022 was a fantastic year for rap, and this album was among the best of the best. It's not far-fetched to call JID the best technical rapper out there, and that's demonstrated better than ever before on his first solo project since 2018. His hypnotic flows slide effortlessly over a wide variety of beats, and his soulful melodies are better than ever before. The Forever Story is an all encompassing tale that talks about his life to that point: family struggles and unity, his upbringing, and his rise to stardom. The final song 2007 is a storytelling track about him getting signed to his label, similar to Kanye West's Last Call. Other standouts included Kody Blu 31, a gospel-sampling blissful tune, and Raydar, a crazy two sided rap marathon featuring some of JID's best flows ever. "I don't really know why, but I would say my favorite song is Stars," said Owen Longano (11).
1. Mr. Morale and the Big Steppers – Kendrick Lamar
In most years, JID would've ran away with album of the year. However, this year was not like many others, as Kendrick Lamar returned with his first album in five years. Kendrick took the opportunity to focus on himself, and created a self reflective piece of work that serves as a therapy session for both him and the listener. He discusses life throughout his absence in the spotlight, like family struggles and addiction. It's not his most ambitious album sound-wise, but he's got his jazz-rap production dialed into perfection. "My favorite song on the album was Father Time. It had nice jazz-infused production and you can tell that Kendrick is rapping from his heart. Lastly, the chorus by Sampha is a great addition and adds another great dimension to the song," said Jonah Eilers (10). One great example of this was the lead single The Heart Part 5, which incorporates a beautiful Marvin Gaye sample. Every track on here is honestly a standout, but Kendrick went all across the board here, with the unsettling ballad United In Grief, the trap banger N95, and the ethereal outro Mirror.
About the Contributor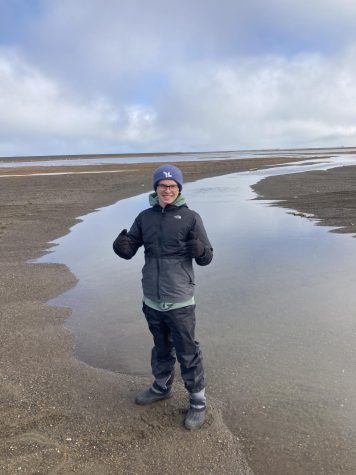 Jonny Windham, Editor
A senior reporter, Jonny Windham is in his 4th year writing and 3rd year editing for The Sound. He hopes to write many quality articles that capture an...