Boys B-Ball faces toughest test yet vs. Timberline
The Gig Harbor boys basketball team (16-1) have enjoyed a fantastic season so far, with one of their most talented rosters ever. Will Landram and Luke Browne have continued to be the dynamic duo all year, lighting up gyms with big dunks and deep threes. Transfer Kevaughn Harvey has been a revelation, bringing a much-needed athletic spark on both ends of the floor. Christian Parrish is continually one of the most underrated players in the entire South Sound Conference, with quality defense and a clutch factor most players can only dream of having. However, their only loss has come against the Timberline Blazers (12-4), who they play Wednesday night.
Timberline has been 10-0 in the South Sound Conference this year, and finished a close second in the SSC with a run to the district tournament. They start a plethora of talented seniors, led by Brooklyn Hicks, a three-star commit to UNLV. According to 247 Sports, the 6'3″ combo guard is ranked #192 nationally and #2 in Washington. The Blazers' offense is lethal and fast paced, routinely scoring in the 90 and 100 point range. Hicks drops over 30 points a game as a three-level offensive threat. "I think they're what you call a one-trick pony," said forward Owen Longano (11).
For the Tides to take the victory, defense has to continue to be the priority. They are great at shutting teams down with a tough Pack Line defense. They block passing lanes and are content with giving up threes in exchange for steals and fast-break buckets. The main thing they can't fall into is letting Timberline roll. They feast off quick scores and good defensive rebounding. Gig Harbor needs to rebound aggressively on both ends and maybe even employ a bit of 2-3 press to slow down the Blazers.
The biggest game of the season goes down tomorrow night, 7PM at Gig Harbor High. Theme is USA out. Let's get a big crowd to support the Tides in their toughest game yet!
(pic from @GHTidesHoops on Twitter)
About the Contributor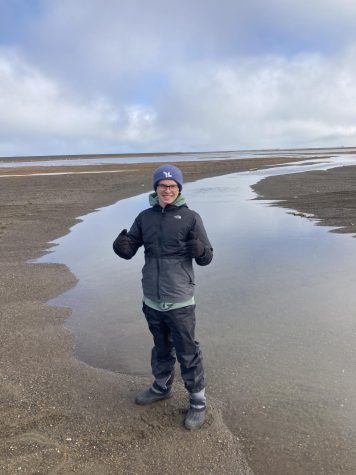 Jonny Windham, Editor
A senior reporter, Jonny Windham is in his 4th year writing and 3rd year editing for The Sound. He hopes to write many quality articles that capture an...