Lady Tides Basketball
Winter brings a myriad of fun activities to our school lives, including one of GHHS's most popular sports: basketball. While the boys' games are sure to pack the stands, girls' basketball often gets forgotten because, unlike most sports where the boys' and girls' happen in different seasons, boys' and girls' basketball occur simultaneously, often with games on the same nights. If you haven't been following girls' basketball, here's a quick summary of the season thus far. The Tides started off the season with an out-of-league game at Lake Washington in which both JV and Varsity crushed the competition, Varsity with a 57-point lead. Both teams have since had a great season going undefeated in league. They suffered a few losses against non-conference schools, but they battled hard and learned valuable lessons. "Winning as a team is always fun, but losing makes us grow from our mistakes to be better," said post on JV Grace McKee (10). The next two games will put the Tides to the test with some of the strongest competition yet, North Thurston tonight and Peninsula on Wednesday, both at home. North Thurston is currently number one in league with Peninsula coming in third after our very own Gig Harbor. Abbie Hunter (11) stated, "I am looking forward to the Peninsula game because of the rivalry and the excitement and anticipation leading into the game." Hunter has been on varsity since her freshmen year, but she tore her ACL before this season. She's still as much of a part of the team as ever, showing up to every practice and game and hosting team dinners. We're looking forward to having her back on the court by next season. As she said, nothing beats the anticipation of playing your rival school, and both the upcoming Peninsula game and tonight's matchup with North Thurston are sure to push our teams to their limits; you don't want to miss it. In the words of JV coach James Bonnici, "We need fan support tonight so make sure to tell all your parents, friends, enemies, dogs, cats, and any person off the street to come support us!" So as you're trying to decide what to do with your Friday night or on Wednesday when you're thinking about driving out to Peninsula to watch the boys' blowout game, consider showing up and supporting your girls' basketball team. Roll Tide!
About the Writer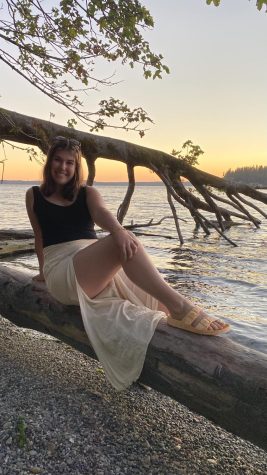 Keira Orr, Writer
New to The Sound staff this school year, Keira Orr is a writer in 11th grade. She has always had a passion for writing, and she's looking forward to...