Transitioning To High School
Transitioning from middle school to high school can be hard and stressful. You have a whole new world to explore. You'll have new teachers, peers, schedules, and a new school too! When you first step foot in the new school you might feel excited, scared, nervous, or ready to rock your first year. All of these are normal and you might even feel all four. You get a fresh start, remember to make a good first impression. I was very excited to start high school. Unfortunately, this year's 9th graders had to start high school in a way no one ever imagined! We had to start our freshman year of high school online due to the outbreak of COVID-19. No one knew how this was going to play out and we were anxious to find out! I lucked out by getting the best teachers anyone could ask for! I don't think that my middle school prepared me for the amount of work I am getting from all my classes. I'm still able to get it done but it's a lot of time at my desk! Being online has been an experience that's for sure! There are many pros and cons to online and everyone has a different opinion on it. Some people prefer online because to them it's easier and they like being home. While others believe that being online makes it harder and more stressful. Kaitlynn Weaver, a freshman at GHHS says "Online is more stressful, it's hard to connect with the teacher and know what they expect from you" Rachel Hileman a freshman at GHHS agrees with Kaitlynn Weaver. They both don't enjoy online. Rachel claims "I can't see my friends, Zoom isn't reliable, it's hard to keep track of assignments and you barely get any class time with the teachers and students" The pros of online are that you get to do everything in the comfort of your home, in your pajamas too! It's very nice to be home and sleep in! Starting online was less nerve-racking because I didn't have to worry about getting lost in the school. The cons are that online brings up issues we wouldn't have to worry about if we were at the school. For example, not being able to get into a class because of technical issues. Along with not being able to ask the teacher for help as they are walking around the classroom. I'm not on team online, because I get distracted and am bad at managing my time along with getting all my school work done. All in all, my transition to High School was hard. How was your transition?
About the Contributor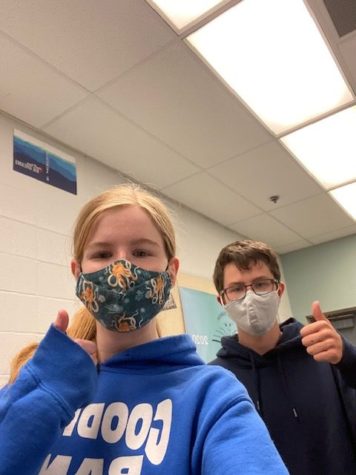 Natalie Flick, Editor
Returning member of the Newspaper Staff, Natalie Flick is a sophomore at GHHS. Flick is excited to be a writer and editor, with the goal of creating amazing...