An Ode To My Fans
This article is more bitter than you may be used to, compared to some of my previous work. It could be considered more as a goodbye article to my dearest readers. To those who have supported and motivated me throughout my deranged journey as the Sounds newest reporter. It is with deep regret that I must inform all you lovely people that I will be moving a very far ways away from our lovely Gig Harbor and its high school.
I know you are shaking with sobs at the moment and wondering where and why I will be moving. My answer may or may not satisfy you, but unfortunately, that is not my problem. It is in fact out of my control as to the why and the where of this astronomically large and devastating move across the country. 
Regardless, this is a thank you article to express my gratitude and appreciation for everyone that has read my work and made this senile class worth my time. I do it for you, I hope you know. Since day one it's always been my readers. I remember wondering what class to sign up for before the year even started and I was speaking with my elder friends, Natalie Flick, (10) and Jonathan Windham (10). "I do recall this conversation," Natalie spoke during an interview. "Morgan was really struggling with what class to pick and I suggested Newspaper. I was on the team last year and I know how rewarding this class can be. It's just exhilarating to see peoples faces light up reading our immaculate articles." A truer quote has never been stated. Jonathan then said, "Newspaper is extravagant," and I was sold.
So that's it. Goodbye Gig Harbor Sound family. Goodbye. It has been an extremely splendid and rewarding five months, watching our small community grow into a family and for that, I am forever grateful and in your debt. I bid you adieu. 
About the Contributor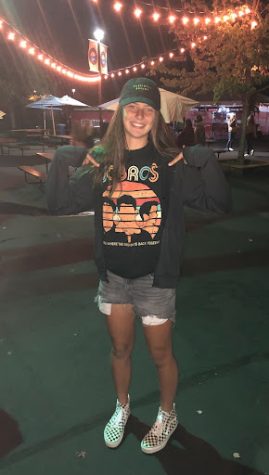 Morgan Weaver, Reporter
New to the newspaper team, Morgan Weaver is a freshman at GHHS this year. Weaver loves to play soccer, hang out with her family and friends, and watch...