Tides lose to top-ranked Auburn team, 66-78
Gig Harbor suffered their second loss of the season Friday night, to the 21-1 Auburn Trojans in an exciting district playoff game. It was a game ravaged by fouls and physical play, two Tides players fouled out: Will Landram (11) and Parker Born (12). The game was super close, within five points up until the end of the 3rd quarter. Asher Raquiza (12) had a great game, hitting threes and playing great defense in the Tides swarming 2-3 zone. Raquiza said the team needs to focus on "keeping our minds fresh. New days are coming and new opportunities await! Don't dwell on the past but reflect and get better for the present!"
The 4th quarter was a tough one for the Tides. Down by 6, and Auburn gaining control of the game, Will Landram fouled out defending a fast break layup. Landram slammed his hand against the mat. This resulted in a very controversial technical foul, and Auburn was able to extend the lead to 10. "It was a very exciting game, but the refs kind of screwed them over," said Natalie Flick (10). Without Landram down low to get buckets and crash the boards, Gig Harbor wasn't able to contain the Trojans' playmaking post players.
Gig Harbor also had some good news this week. Luke Browne and Will Landram were both named first team All-SSC. Christian Parrish (11), the Tides stud point guard was named Defensive Player Of The Year and second team All-SSC. Asher Raquiza was names an honorable mention All-SSC. Congrats to these talented hoopers!
Auburn moved on the the winners bracket and punched an automatic bid to the 2022 Hoop Classic in the Tacoma Dome. Gig Harbor has an elimination game at home against the 12-6 Lincoln Abes. If they win two more games, the Tides will make state as well. Come on Wednesday at 7 PM to cheer on your Tides!
About the Contributor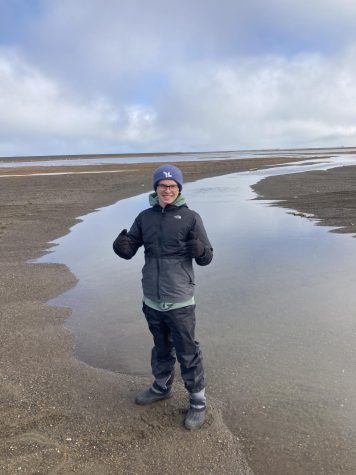 Jonny Windham, Editor
A senior reporter, Jonny Windham is in his 4th year writing and 3rd year editing for The Sound. He hopes to write many quality articles that capture an...