Introducing New Football Coach Darrin Reeves
Darrin Reeves was officially announced as the next Head Coach for the Gig Harbor Tides, announced by Mrs. Suiter on February 18th. He has coached since 2011, and has been all over the nation in various high school programs. I got the opportunity to ask him a few questions about his career and his plans to bring in a much-needed winning culture to Gig Harbor. We wish Coach Reeves all the best and hope the Tides have successful season next year.
Where did your coaching career begin?
"I began my coaching career at Northeastern State University in Tahlequah, OK as a graduate assistant. Where I coached Wide Receivers and Tight Ends."

What inspired you to start coaching?
"My coaches throughout my playing years really made a positive impact on my life. I want to make the same impact on the players I coach that they did me. Also, I love sports and to compete, once I was done playing, I knew I had to stay connected somehow."
What will you do to bring a winning tradition to the program?
"I believe that my work ethic and drive will carry over throughout the rest of the team. We will have a mind set of going 1-0 everyday, and always putting the team first. We will have a WINNING CULTURE!"
How do you plan to incorporate more strength and conditioning?
"Thankfully with the restrictions starting to be lifted from COVID we will have an opportunity to get in the weightroom to improve our overall strength and on the field to work on our conditioning and lateral quickness."
What's your favorite part of coaching?
"Seeing players succeed in football and in life. I love when players reach out after they have graduated and share how they are doing, and how our football program prepared them to be champions in life. Winning football games in important, but preparing student-athletes for life after high school is our #1 priority."
The offense seemed inconsistent through this past season, what will you do to improve on that?
"I think we need to be more consistent as a team in all phases. Our offense, like our defense and special teams, had some great moments. In all 3 phases we will work on be aware of every situation and what our goals are for each possession. I believe more than anything we have to be more consistent mentally, and do a better job of not taking plays or series off."
Do you ever plan to take your coaching career to the next level?
"I would never rule it out, but I love what I get to do as a high school coach. When coaching college you get more of a finished product, I want to be a springboard to student-athletes into their future and the high school level is when that happens. I also love spending time with my family, having an 8 and 2 year old keep me pretty busy. College coaching is so time demanding, and coaching changes happen so often I would have to uproot my family. We absolutely love living in Gig Harbor, and we plan on both of our kids graduating as a Tide."
About the Contributor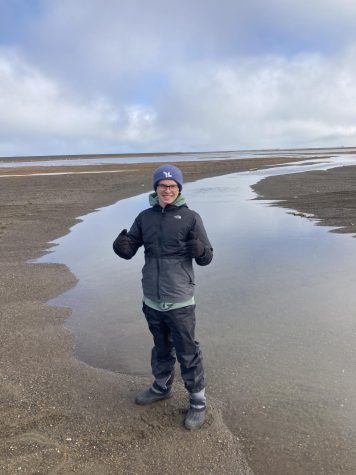 Jonny Windham, Editor
A senior reporter, Jonny Windham is in his 4th year writing and 3rd year editing for The Sound. He hopes to write many quality articles that capture an...